HOME
 Welcome to the
Marshfield Historical Society.
2013,
   Our 100th Anniversary
      *****************************
Upcoming Events: Sept-Oct 2014 of the Marshfield Historical Society
Backroads of the South Shore Fall Bus Trip
Saturday, September 27th, 9:45am-4:30pm
Here Lies Buried: 
A Tour of Four Historic South Shore Cemeteries
 Ancient Native American and Early 17th-Century Life in Marshfield
Date & Time: Sunday, October 5, 1:30 – 4:30 PM
Location: Furnace Brook Middle School Auditorium, Rte. 139 Marshfield
For details please check Current Events above.
Two significant events in April!
On Sunday, April 6th, Mr. Milton Bacheller of Plainville, MA presented a fully restored Randall Brothers reed organ to the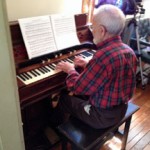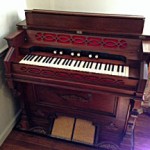 Marshfield Historical Society. This organ was built in Marshfield sometime between 1871 and 1884 and as far as is known is the only one in existence. About 40 people were in attendance and were treated to Mr. Bacheller playing four selections. In addition, he explained what was done to the organ to restore it to its present condition and gave us the pictorial timeline of the restoration process. Needless to say the Society is thrilled by this wonderful donation and offer our thanks to Mr. Bacheller. (Click on Home above to see the organ being played by Mr. Bacheller). Click Here for a link to an article in the Patriot Ledger.
and
On Sunday, April 13th at 2:00 pm we will continue our Pro-Am Lecture series with a talk and slide show on the 1941 Brant Rock fire by the historian John Horrigan  along with actual footage of the fire recently discovered.  This event will be held at St. Ann's Parish Hall. Donations are $5 for Society members, $10 for non-members before April 10th and $15 at the door. Send donations to The Marshfield Historical Society, PO. Box 1244, Marshfield, MA 02050.
Marshfield Historical Society Annual Meeting  
On Sunday, March 9th, the Marshfield Historical Society held its annual meeting at Haddad's restaurant in Brant Rock. With an attendance of over 60 people, we had the best attendance in recent years. Thanks to all who were there! 
After the election and instillation of our new officers and Board of Directors, our guest speakers, archeologists Brian Jones, PhD, Ross Harper, PhD and Mary Harper, spoke about what they had found at the current airport excavation site relating to a previously unknown European/Pilgrim home site and archeological evidence of years of Native American activities. The fact that they were peppered with questions at the end of their presentations indicated the great interest to those present. 
On December 1st we held our annual Member Appreciation Day.  Each year we publicly recognize those people that have contributed their time and effort in making the Marshfield Historical Society the success that it is.
Last November we were saddened by the passing of Gil Burns, a past
President of the Society and a long time Board of Directors member.  Gil was particularly active in promoting programs associated with the old Winslow Schoolhouse.  He loved working with the third grade children when they visited the schoolhouse each spring.  Phyllis Burns, his wife, presented a plaque to the Society which will be permanently located in the Schoolhouse. This plaque honors Gil for his work.
Robin Mitchell and his wife Kathleen presented a restored chair with a caned seat to the Society in honor of Gil.  Caning was one of Gil's interests after he retired and he was most generous in teaching others the craft, including Kathleen.
Throughout the program we were entertained by 'The Harper
      and the Minstrel', with Jay and Abby Michaels. Their music   features Celtic, Folk and Early Music dating back to the 12th century with period appropriate instruments. They were simply marvelous. 
******************************
Collectable, limited-edition 100th anniversary ceramic Marshfield history mugs
MHS Mugs at $20 can be purchased by contacting Cindy Castro at cincastr@comcast.net
****************************************************************
News Items
 After many months of planning, designing and
 submitting bids  we finally have two new signs! One at    the Marcia Thomas House and one at the  Old Winslow Schoolhouse. 
-      
Our monthly Pro-Am lecture series will continue from October 2013 to May 2014. See our next newsletter for details. Our October topic will be archeology in concert with the Massachusetts Historical Society.
-       The first annual History Award was presented to Chelsea Crabbe, a Marshfield High graduating senior who plans to study history in college. This cash award and plaque was sponsored jointly by the Society and the Social Studies department of the high school.
-       The Board has unanimously approved the acceptance of a donation from Jennifer and Peter Angus of an estate-built octagonal gazebo.  During this summer this antique structure will to be relocated from theirMarshfield property to the rear of the parking area at the Marcia Thomas House on an existing concrete pad.
-       Contact Virginia Stewart at 781 834 4136 if you would permit the Society to copy old tape recordings in your possession which include coverage of local historical events.  She will also be happy to arrange for an oral history recording to document your recollection of your family history inMarshfield.
Hours of Operation
The museum is open the first Sunday of the month from 1-4 and by appointment. For the Spring/Summer/Fall, 2013 the dates are Jan 6,  Feb 3, Mar 3, Apr 7, May 5, June 2, July 7, Aug 4, Sept 1, Oct 5, Nov 3 and Dec 1.
 We need volunteers for garden and field maintenance, for museum docents, for cataloging of artifacts and for simple house maintenance. Volunteer for one-time or longer term projects. The Board cannot do it all themselves. Please call Tim Davidson 781 801 8267 for more information.                                                                                                                                                                                                                                
Board Meetings are generally the 2nd Tuesday of each month at 7:00PM, at the Marcia Thomas House.
Marcia Thomas House Museum and archives are open from 1PM to 4PMon the first Sunday of each month, except holidays.