Store
Collectable, limited-edition 100thanniversary ceramic Marshfield history mugs
MHS Mugs at $20 can be purchased by contacting Cindy Castro   at  cincastr@comcast.net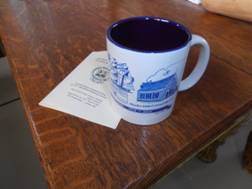 Local artist Sally Dean-Mello has released the 14th of her series of Holiday Ornaments… this one featuring the Marcia Thomas House, headquarters of the Marshfield Historical Society.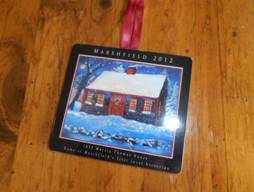 These are ideal gifts for your friends. They fit into a stocking easily. Friends of the Marshfield Historical Society would be proud to display our Blacksmith Shop throughout the year in their home. They are collector's items and we have numbers lower than 100 (out of 500 maximum).
Profits from the sale of these ornaments will be used to defray the maintenance costs of the Blacksmith Shop.
Each ornament costs $15. Postage and handling is $3 per order. If you want three (3) ornaments mailed to you, the cost would be $48, two (2) would cost $33 and one (1) would be $18.
Raffle tickets for beautifully framed, limited edition, David Brega print valued at $350.  $5/ticket or $10/3 tickets by contacting Gloria O'Grady at glory28@verizon.net.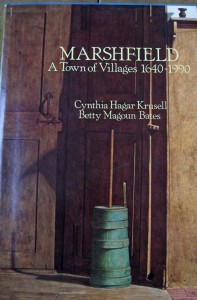 A wonderful history of our Town. A must for anyone interested  in Marshfield's history by Cynthia Hagar Krusell  and Betty Magoun Bates.   $40.00 + $3.00 Shipping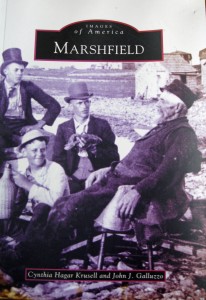 A beautiful pictorial history of Marshfield by Cynthia Hagar  Krusell and John Galluzzo.   $19.00 + $3.00 Shipping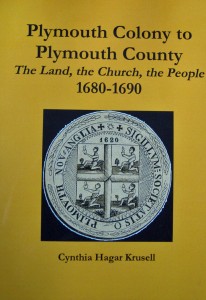 A history of the Plymouth Colony from 1680 to 1690 by  Cynthia Hagar Krusell.  $20.00  + $3.00 Shipping
A unique collection of toys made from wood from the Hatch Mill by Arron Loomis of Marshfield.  What is pictured is what we have.  $10.00 each + $3.00 Shipping
To purchase any of these items please contact  the MHS Store Director, Cindy Castro, cincastr@comcast.net  or send us a note under the 'Contact Us' tab at the top of the page.